SHOP THE POST:

How to maximize your closet space
Since moving to New York City, I've had to master the skill of "making the most of whatever closet space I have." About a month ago, I realized I had a lot more clothing than I had while living in Miami. How, you ask? Well, during the last eighteen months I've accumulated quite a few thermal leggings, fuzzy sweaters and wool socks that were completely unnecessary before. And now, most of these pieces were taking over my shelves!
I decided to browse The Container Store, Wayfair and Bed Bath & Beyond in order to find the best storage solutions. Thankfully, it is so easy to find organizational tools and storage products that can help you create twice as much space as you had before. Whether your goal is to convert your closet into a storage powerhouse, or you are interested in improving your current closet space, I hope the following tips & tricks will help you out! Here is a summary of my absolute favorites.
After seeing how much my mom loved her white mesh drawers, I decided to buy the same ones, but the wider version! The sturdy mesh drawers hold a lot, and I love that you can see through them! They are a fantastic storage solution that can be used in any room of your home! These mesh drawers are way better than any plastic drawers I've ever had. A melamine white top and casters (four wheels) are optional.
Click here to shop: Elfa White Mesh Wide Start-a-Stack
Click here to shop: Start-a-Stack in other sizes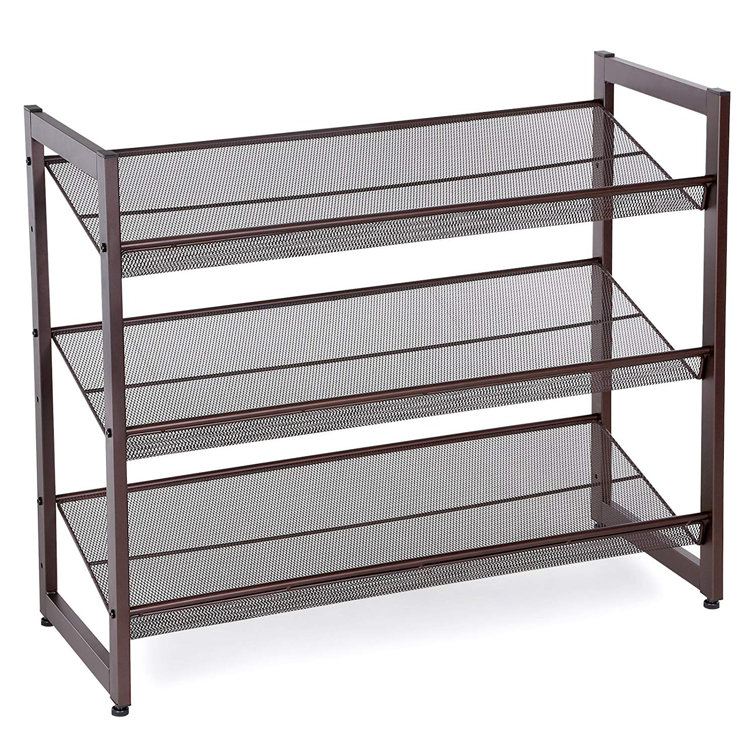 If you are looking for a shoe rack, this metal adjustable shoe rack is the one you need. I bought two of these five years ago when I lived in Florida, and I recently purchased two more! This is a heavy-duty shoe shelf that holds up to 12 pairs of women's shoes or 9 pairs of men's shoes. Very easy to assemble too!
Click here to shop: 3-Tier Metal Flat and Slant Adjustable 12 Pair Stackable Shoe Rack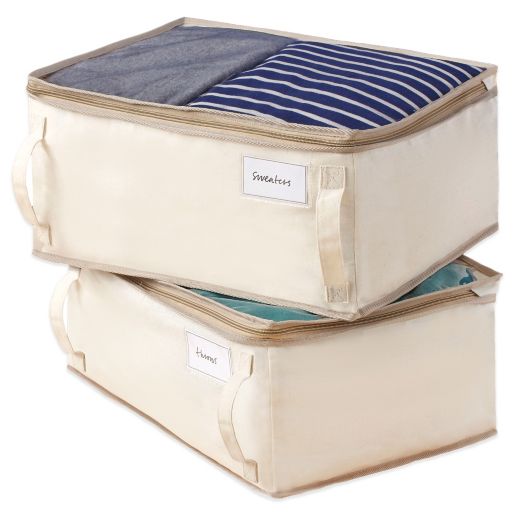 I totally underestimated these garment storage bags when I purchased them in-store! They've proven to be a fantastic storage option. These bags hold so much more than I thought they would! They are fairly inexpensive and you can easily squeeze them in the back of your closet. I am very happy with them!
Click here to shop: Garment Storage Bag (Set of 2)
The best part about these stackable boxes is that they are made of clear plastic, so you will never have to wonder what items you have placed inside. These boxes are available in two sizes and open at the top. I keep these clear boxes on the top shelf in my closet, and now that valuable space does not go to waste. To check out these clear boxes with a pull-out drawer, click here.
Click here to shop: iDesign Hinged-Lid Stackable Shirt & Sweater Boxes
I purchased two of these canvas storage bins in-store (size small), and later ordered three more online. Believe me, these are that good! I love that they are useful for keeping smaller items that were previously laying around, organized and contained. Not only are these storage bins functional, they are also very chic! You can put a label on them too!
Click here to shop: Farmhouse Open Canvas Storage Bins with Labels
I hope that today's post inspires you to maximize your closet space!
Xx, Florencia
MORE USEFUL OPTIONS:

OTHER TIPS & TRICKS:
Be sure to have tape measure handy to measure the width, depth and height of your closet and shelves! Use clear shelf liner for your shelves, it will protect your clothing and prevent it from sliding around. I love to use this liner here for the shelves in my closets as well as for my kitchen drawers.

SHOP: